Introduction of Group Subsidiaries
HOME

About Us

Introduction of Group Subsidiaries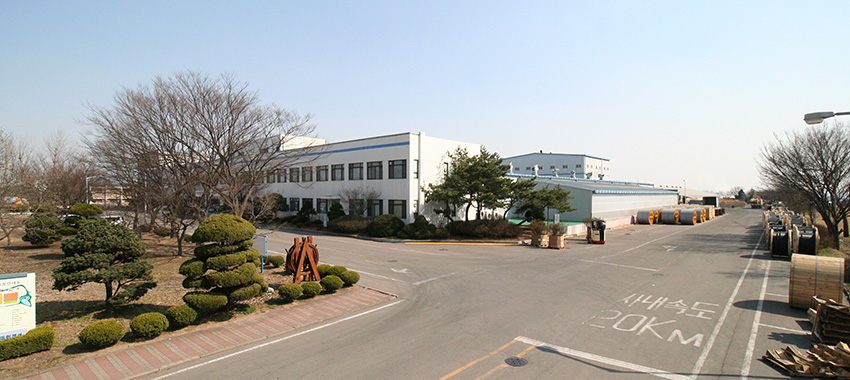 Daewon Cable Group
50 years of firm endurance through economic crisis in Korea. Now Daewon Cable Group is taking another step to new challenge based on the core competencies of previous businesses to continue its growth into sustainable future company.
Taking one step after another to reach as a global company that connects the world beyond a country is the basic direction pursued by Daewon Cable Group.
Daewon Cable
Daewon Cable that led the corporate history of 50 years, will become the basis for Power, communication and automobile cable businesses that are national infrastructure industry based on best quality and productivity in Korea.
Daewon Cable, a comprehensive cable manufacturing company that produces and distributes Power cables, communication cables, optical communication cables, automobile cables, irradiation cables and UL cables, has head office and manufacturing plant in Chungnam Yesan and supplies products suitable for each country in domestic market as well as Asia, Oceania, Africa and America based on our five sales branches in Seoul, Daejeon, Daegu, Gwangju and Busan.
Manufacturing
sector
Daewon Cable

Phone :

041.339.3400

Fax :

041.339.3406

Address :

92, Hoeumdeokryeong-gil, Godeok-myeon, Yesan-gun, Chungnam 32401

Major products :

Power cables, communication cables, automobile cables

Daemyoung Cable

Phone :

063.833.3500

Fax :

063.833.3502

Address :

83-12, Hocheon-gil, Nangsan-myeon, Iksan-si, Jeonbuk 54521

Major products :

Power cables, communication cables, insulated cables

Daewon F.M.I.

Phone :

041.354.3883

Fax :

041.354.3456

Address :

15, Bugokgongdan-ro, Songak-eup, Dangjin-si, Chungnam 31721

Major products :

Conductors for automobile cables

Waihai Jinyuan Cable

Phone :

(86)631.808.3161

Fax :

(86)631.808.3164

Address :

7-1, Jiulong Rd., National Economic and Technological Development Zone, Wendengshi, Shandong

Major products :

Automobile cables

Kumsung Industrial

Phone :

041.362.0903

Fax :

070.4369.0569

Address :

115-1 Bukchang-ro Soonseong-myeon, Dangjin-si, Chungcheongnam-do

Major products :

Plastic injection molding manufacturing
Renewable energy
sector
New Daewon Energy

Phone :

031.354.4701

Fax :

031.354.4718

Address :

73, Bugokgongdan-ro, Songak-eup, Dangjin-si, Chungnam 31721

Major products :

Waste disposal and hot water production
Real estate
Sector
Kabdo Industry

Phone :

02.2273.0771

Fax :

02.2272.2068

Address :

9F, Gwanghui Building, 307, Toegye-ro, Jung-gu, Seoul

Major products :

Leasing real estate

Daewon Holdings

Phone :

02.2273.0771

Fax :

02.2272.2068

Address :

9F, Gwanghui Building, 307, Toegye-ro, Jung-gu, Seoul

Major products :

Leasing real estate